History buffs will have an opportunity to obtain their own presidential artifacts next month when a collection of JFK's personal belongings is put up for bid.
Included will be more than 700 photographs, letters, official correspondence, documents and gifts. The highlight of the auction is expected to be an Air Force One bomber jacket that belonged to Kennedy.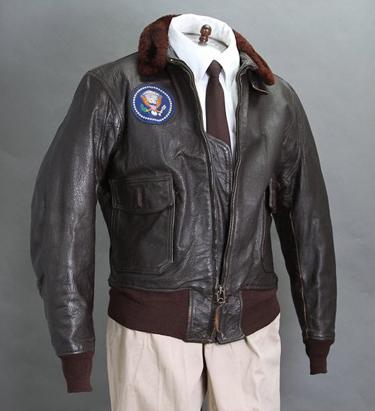 The collection is being sold off by the estate of David Powers, a special advisor and close personal friend of the former president.
The brown leather jacket (with a presidential seal sewn on the front) is estimated to be worth between $20,000 and $40,000. It comes with a color photograph of Kennedy wearing it while watching the America's Cup race. It was apparently also loaned to President Ronald Reagan, and the auction includes a letter from Reagan to Powers thanking him for the jacket.
JFK's presidency was cut short when he was assassinated in 1963.
What if the snipers missed JFK and killed Jackie Kennedy instead? Read the daring new novel that flips the JFK assassination on its head!
Check out blockbuster new novel DESTINATION DEALEY: Countdown to the Kennedy Conspiracy. e-Book now on sale for $0.99 !
Tags: Assassination, JFK, Kennedy, Memorabilia, Popular Culture, Presidents